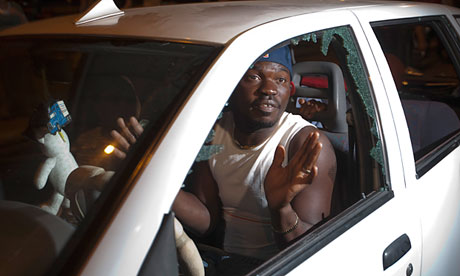 Miri Regev, a member of the Israeli parliament, told the crowd "the Sudanese are a cancer in our body". The vast majority of asylum-seekers in Israel are from Sudan and Eritrea.
Around 1,000 demonstrators took part in the demonstration on Wednesday night, waving signs saying: "Infiltrators, get out of our homes" and "Our streets are no longer safe for our children." A car containing Africans was attacked and shops serving the refugee community were looted. Seventeen people were arrested.
A reporter for the Israeli daily Maariv described it as an "unbridled rampage" and explosion of "pent-up rage".
"Suddenly one of [the protesters] noticed that in one of the cars waiting for traffic to move were two young dark-skinned men, apparently foreign workers. For the hundreds of inflamed and enraged young people, that was all they needed. Within minutes, they dismantled – there is no other word to describe it – the car and its passengers. Some of them smashed the windows with their hands and rocks, others kicked the car, bent the plastic parts and tried to attack the people inside. 'I'm not from Sudan, I'm not from Sudan,' the driver tried to tell the assailants, but nobody was listening at that stage."
Israel's police chief has urged the state to allow asylum-seekers to work in order to avoid economic and social problems.